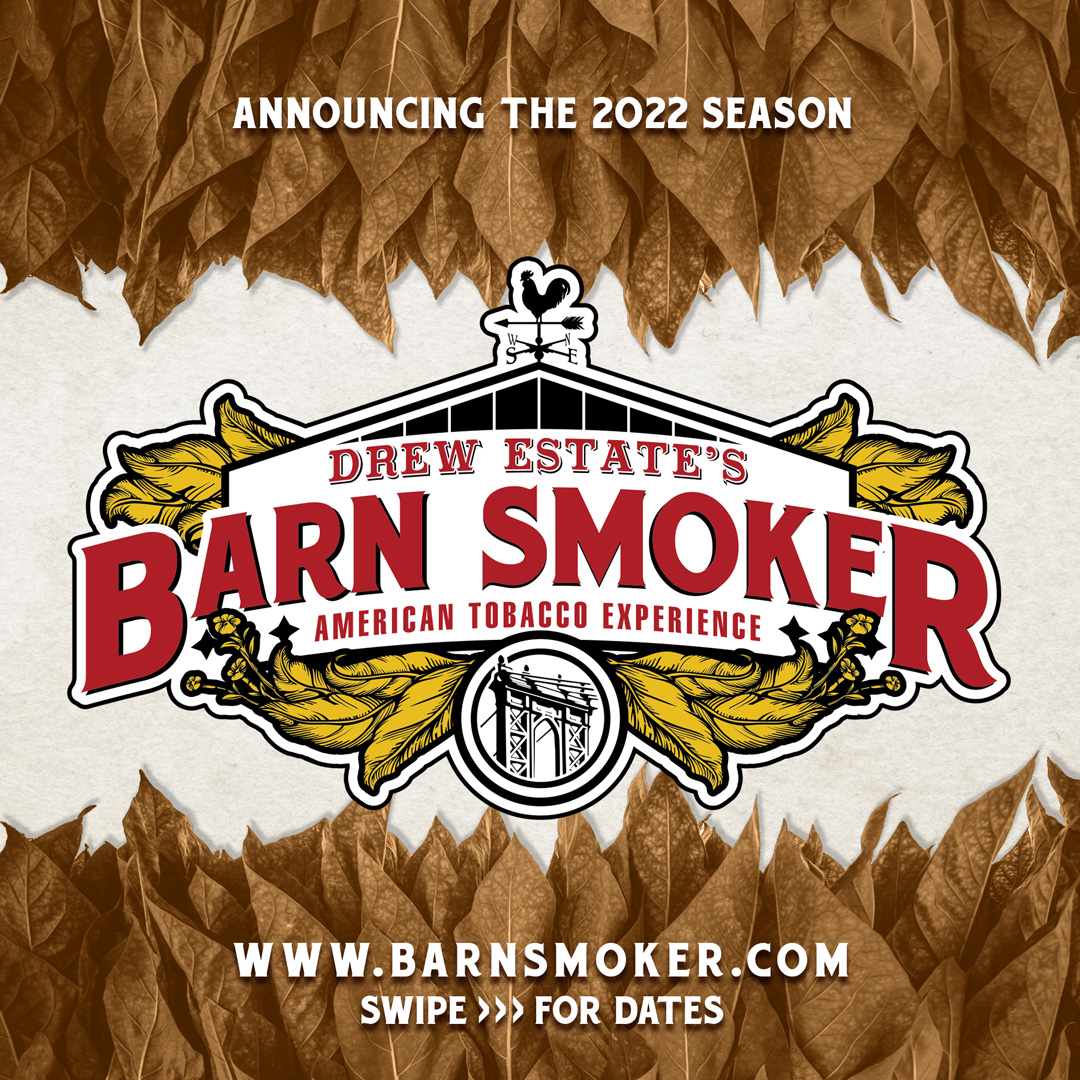 2022 Barn Smoker Tickets – Drew Diplomat Pre-Sale LIVE!
Drew Estate's Barn Smoker Program is returning in 2022 and it's going to be bigger and better than ever before! Announced during the Feb. 17 "Freestyle Live" broadcast on Drew Estate's Facebook and YouTube pages, the 2022 Barn Smoker program will consist of these five epic and memorable events:
Florida Barn Smoker            Clermont, FL               May 13-15
Pennsylvania Barn Smoker     Strasburg, PA               July 15-16
Connecticut Barn Smoker       Ellington, CT               Aug. 12-14
Kentucky Barn Smoker       Hopkinsville, KY            Sept. 30-Oct. 1
"Barn Smoker Presents—Savage Feast"   Parker, TX           Oct. 21-22
We've blended new elements into these "Greatest American Tobacco Experiences." On the Friday night before every Barn Smoker, Drew Estate will host DE25 Exclusive Pre-Parties, where those lucky enough to attend will be the first to experience new Drew Estate cigar launches! The DE25 Exclusive Pre-Parties take the place of the original single-day DE25 event that we postponed last year due to Covid-19. These five new DE25 Exclusive Pre-Parties will allow us to share our milestone with more people in a more intimate setting to enjoy spirits and appetizers; savor succulent pork roasted from a heritage pig; dance to live music entertainment and beats spun by DJ Eli; meet Drew Estate's Ambassadors and enjoy their special cigars, as well as experience Drew Estate's newest cigars.
We're also incorporating all-new swag, expanding the Florida and Connecticut Barn Smokers to two single-day events and introducing new brand activations. Additionally, the 2022 Barn Smoker Program will debut "Barn Smoker Presents—Savage Feast," a blockbuster Medieval-style Barn Smoker extravaganza at the South Fork Ranch in Parker, Texas, on Saturday, Oct. 22. Tickets for "Barn Smoker Presents—Savage Feast" will also include entry to the DE25 Exclusive Pre-Party on Friday night, Oct. 21.
Check the Links Below to Grab Your Tickets!
Florida Barn Smoker
https://bit.ly/3gStCxg
Pennsylvania Barn Smoker
https://bit.ly/3gWd8Es
Connecticut Barn Smoker
https://bit.ly/3I337RJ
Kentucky Barn Smoker
https://bit.ly/3579N2m
Barn Smoker Presents Savage Feast
https://bit.ly/3sIPIaY