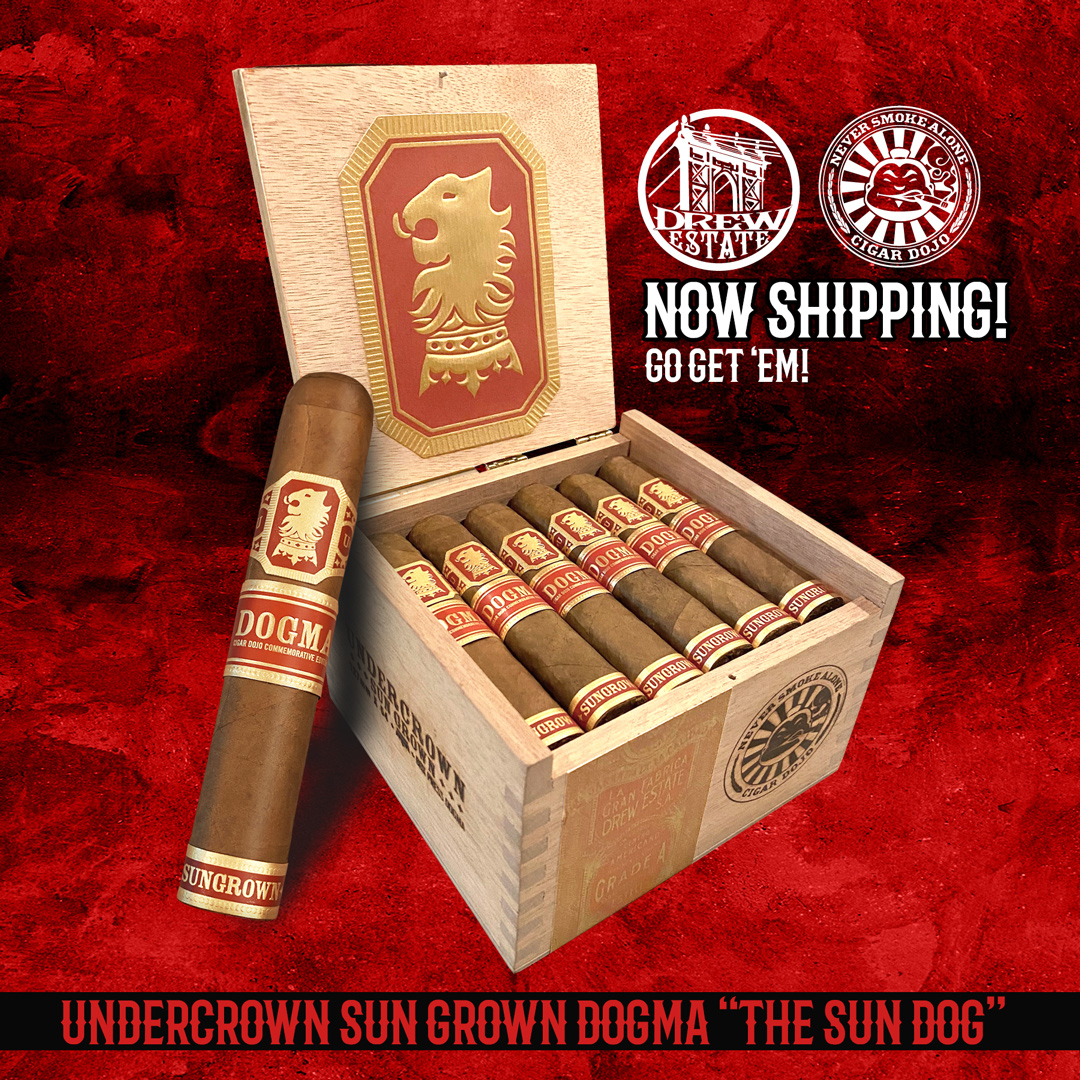 Drew Estate Shipping 2021 Undercrown Dojo Dogma Limited Editions
Drew Estate's 2021 limited edition Undercrown Dojo Dogma Sun Grown and Undercrown Dojo Dogma Maduro are now shipping to participating Drew Diplomat Retailers nationwide. The two Dojo Dogma expressions debuted in early May during Drew Estate's "Freestyle Live: Special Edition," adding to an already blockbuster year for the Undercrown brand, currently celebrating its
tenth anniversary … "A Decade of Dedication."
Undercrown Dojo Dogma Maduro (6 x 56) is a powerhouse cigar, blended in the footsteps of the infamous Undercrown Corona Viva, using a toothy Mexican San Andres Maduro wrapper, spicy Connecticut stalk-cut and stalk-cured Habano binder, and Nicaraguan and Brazilian filler leaves. While certainly distinguished as full-bodied by adoring fans, Dojo Dogma Maduro is rewardingly smooth and sweet to the palate.
A box-pressed Robusto, Undercrown Dojo Dogma Sun Grown (5 x 54) is lovingly wrapped in an Ecuadorian Sumatra sun-grown leaf and features a Connecticut River Valley stalk-cut and stalk-cured sun-grown Habano binder with a blend of Nicaraguan premium filler tobaccos, including an extensively aged ligero leaf from Nicaragua's rugged Nueva Segovia region.
"So some of you out there may think that you actually hate rap music," says Jonathan Drew, Founder and President of Drew Estate. "You might even say to your golfing buddies 'I love the opera music, and as a matter of fact, me and my honeybee even like to dance to it.' Well, first of all, ain't nobody dancing to opera … and … secondly, you actually love old-school hip hop, but just don't realize it. I know this because you love Drew Estate!!! You know you be coveting those DE Shady's from this year, last year, and way back 'cause they're so tasty!!! We know you love 'em … and also errybody in the whole wide world love Dojo Dogma's … and that's a straight scientific fact. This is my communication for today. Danke Schoen."
Previously packaged in 10-count Soft Packs, Undercrown Dojo Dogma Maduro is now presented in 10-count wooden boxes and has an MSRP of $122. Undercrown Dojo Dogma Sun Grown is packaged in 24-count wooden boxes with an MSRP of $258. Making it easier for consumers to identify the limited edition Undercrown Dojo Dogmas, each wooden box is emblazoned with the Cigar Dojo and Drew Estate logos.
Honoring the release of this year's Undercrown Dojo Dogma limited editions, Smoke Inn will host a virtual event on Smoke Inn's Facebook page (facebook.com/smokeinncigars) beginning at 7 p.m. Eastern on Oct. 14. Jonathan Drew; the Cigar Dojo team; and Smoke Inn's owner, Abe Dababneh, will attend the marquee event, which will be jam-packed with special deals and other exciting surprises.