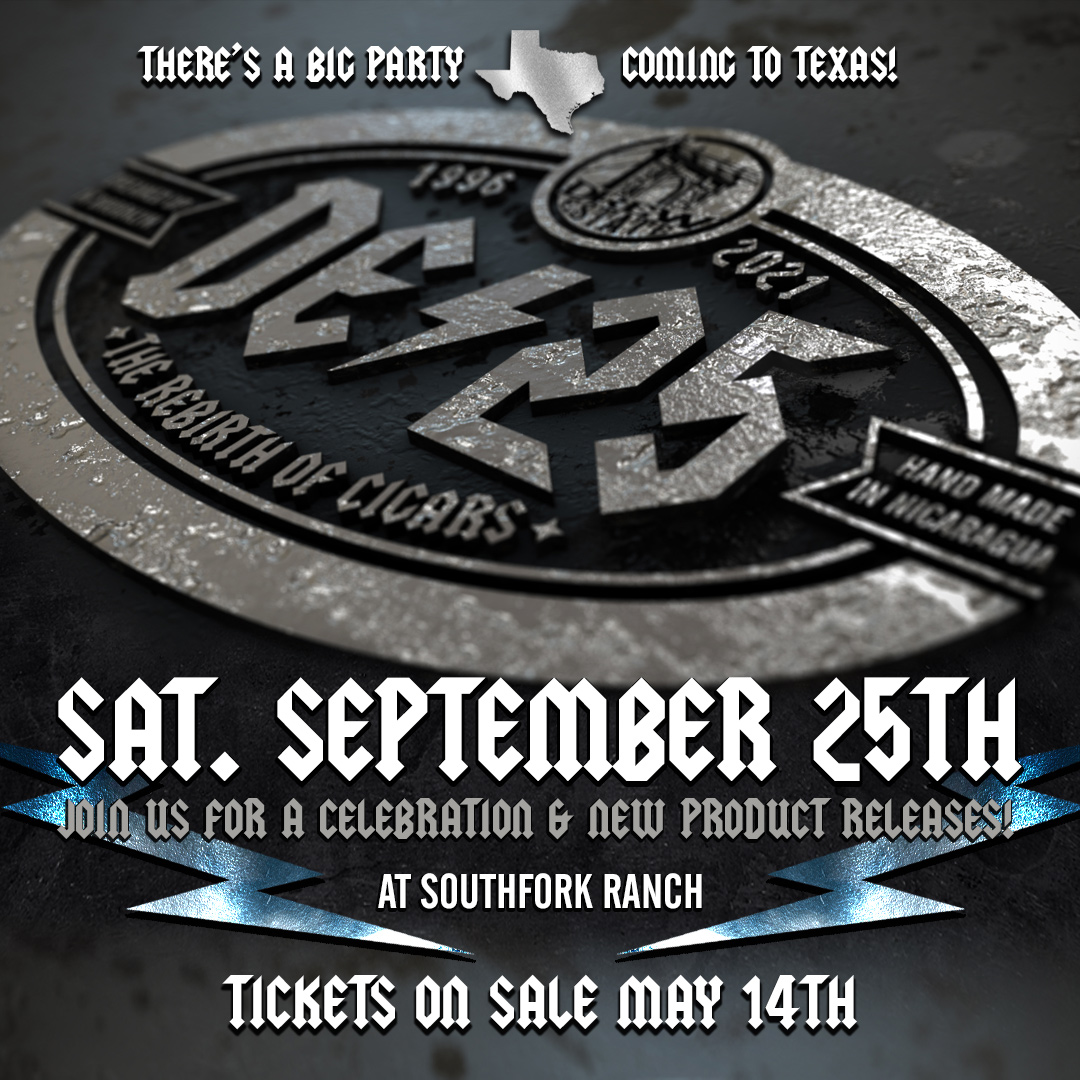 DE25 Drew Diplomat PRE-SALE LIVE!
This year marks the 25th anniversary of Drew Estate and The Rebirth of Cigars Movement. To celebrate this momentous occasion, the company is inviting you, consumers, retailers and cigar media to its epic blow-out birthday bash, entitled "DE25." DE25 will be held on Sept. 25 at the Southfork Ranch in Parker, Texas, part of the Dallas/Fort Worth Metropolitan area. The DE25 celebration will include the unveiling of Drew Estate's newest brands, with a first-to-experience approach for consumers and trade partners together.
Guests who purchase tickets to attend DE25 will receive an onslaught of "packages" worthy of the company's single biggest milestone event in its history. Before the event, ticket-holders will first receive at their homes a pre-party package of goods that includes exclusive, next level DE25 swag. Later, upon arrival at the Southfork Ranch (made famous in the television show "Dallas"), attendees will receive a numbered commemorative box that is sure to become a serious collector's item that contains 9 premium Drew Estate cigars. Additionally, guests will receive a very high-end DE25 backpack filled with DE25 branded items, including first-class cigar accessories, plus other surprises that we cannot divulge today.
The DE25 event extravaganza will begin at 2 p.m. with a tailgate pre-party. Attendees will enjoy appetizers, Drew Estate cigar brand sensory activations and other new experiences that the company is planning to roll out exclusively for the event, all the while savoring their favorite Drew Estate cigars. The celebration will ramp up at 6 p.m. when guests are invited inside the beautiful event space for the full-monty experience, including live music performances, a full dinner, lots of great spirits … and even more Drew Estate swag and cigars. During DE25, Drew Estate will debut its new major brand releases, as well as several new cigar sizes to existing brands, giving guests the exclusive opportunity to be the first to see, touch and smoke them.
From Wynwood, Miami, Jonathan Drew, Founder and President of Drew Estate says "I imagine that most people are drawn to DE because of our company culture, lifestyle brand, and product innovation … but first and foremost we are a company with a huge heart, which has served as our North Star through 25 orbits around the Earth's sun. I look forward to DE25 in the deepest sense, to spend this emotional and proud moment with each of you. I can't wait to see everyone with us, together, on this historic day."
Since 1996, Drew Estate has led The Rebirth of Cigars Movement, shaking up the premium cigar industry in a disruptive and irreverent New York style that invites everyone to be themselves and celebrate their uniqueness, while enjoying a premium cigar. Based on innovative brands, experiential events, and a heavily embraced company culture, the Drew lifestyle brand has grown from a small retail kiosk selling premium cigars inside the World Trade Center into a cigar-making juggernaut with one of the world's largest cigar factories, La Gran Fabrica Drew Estate in Estelí, Nicaragua.
Every step of the way, Drew Estate has relentlessly worked to strengthen its connection with loyal fans, as well as the family of brick & mortar retailers who sell them. Far from being a self-congratulatory slap-on-the-back, DE25 will be a massive extravaganza of gratitude and appreciation for the good people who believe in Drew Estate and continue to journey with the company, one glorious puff at a time.
DE25 attendance will be limited to 2,500 guests. Drew Diplomat members and Drew Estate retailers may purchase tickets at a discounted "Early Bird Special" rate of $350 beginning on May 7 at 3 p.m. Eastern through May 13. Tickets go on sale for the general public on May 14 and cost $400. General admission tickets may be purchased at drewestate.com/de25 starting May 14th.
Buy Your Tickets HERE!
https://bit.ly/3f0YElg