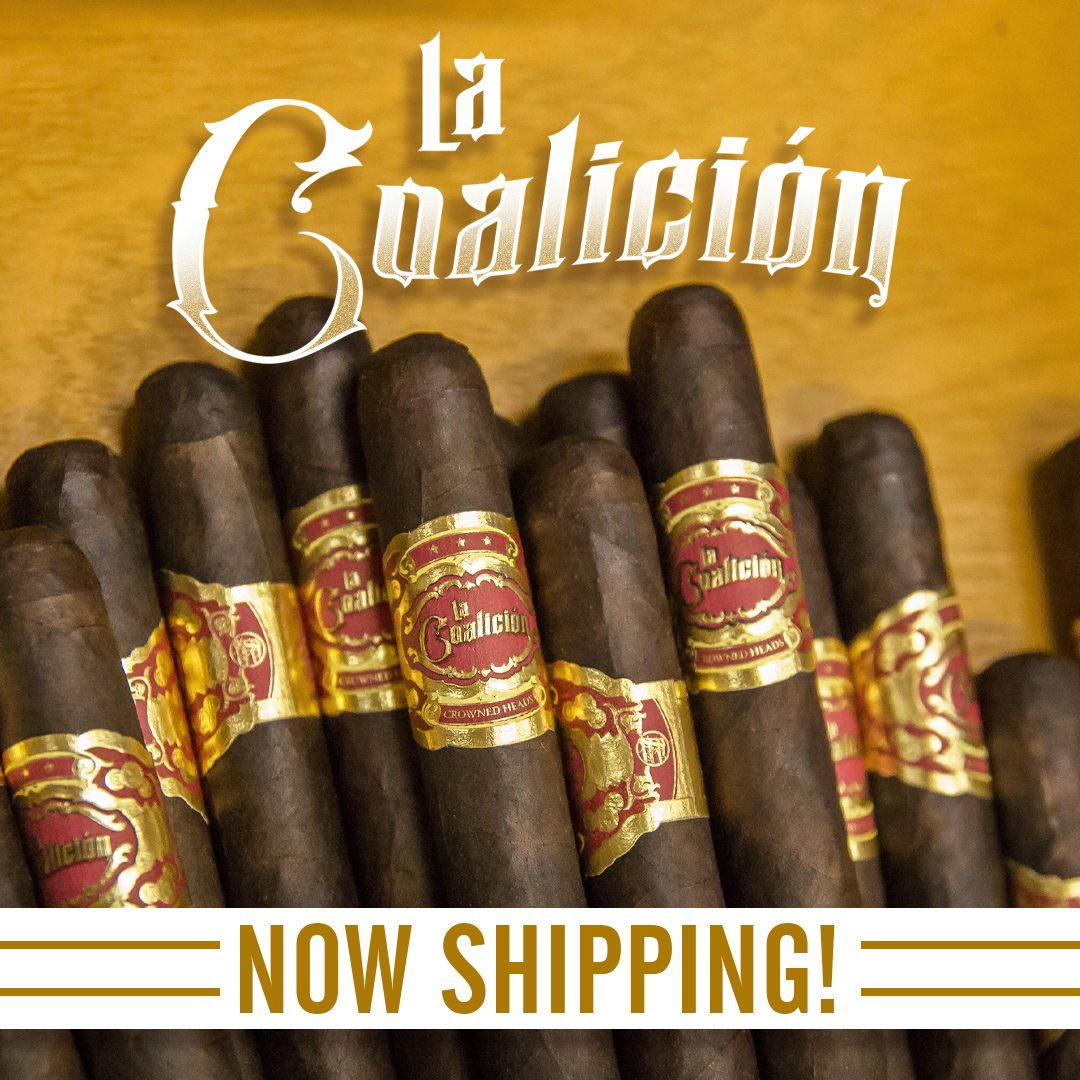 Drew Estate and Crowned Heads Announce the Shipping of "La Coalicion" Nationwide!
Today Drew Estate and Crowned Heads announce the nationwide shipping of their collaborative release "La Coalicion", manufactured by La Gran Fabrica Drew Estate and sold through Crowned Heads.
"La Coalicion" is an astonishing collaboration brand for the true cigar aficionado. The brand is wrapped in rich, dark Connecticut Broadleaf, with a spicy Sumatran binder and aged fillers from Nicaragua and the Dominican Republic. "La Coalicion" is available in 4 sizes: Corona Gorda (5" x 46), Gordito (5 1/2" x 50), Siglo (6" x 52) and Sublime (6 1/2" x 54). Each vitola brings a very specific and unique nuance and complexity, carefully blended by Willy Herrera and Jon Huber.
Drew Estate Master Blender Willy Herrera notes, "I can't wait to see what our fans think of this collaborative blend between Huber and myself. The blending process led us to select a beautiful Connecticut Broadleaf wrapper that bursts with flavor."
From Crowned Heads HQ in Nashville, Jon Huber exclaims, "I can sum up my feelings in one word: PUMPED! We are so thrilled for our consumers to be able to light up and enjoy this passion project between Willy Herrera and myself."
From the Wynwood Safehouse, Jonathan Drew President and Founder of Drew Estate notes, "At Drew Estate, we take the process of creating new brands very seriously. Each new brand must be created with a significant purpose and divine inspiration, like creating a miracle. It's almost religious for us. I deeply appreciate La Coalicion and celebrate its birth. I'm gonna rock out on some Eric B and Rakim today when this press release drops. Let's get em!!!"
"La Coalicion" is manufactured at La Gran Fabrica Drew Estate and is sold through Crowned Heads. It is shipping in the following vitolas:
Corona Gorda (5" x 46) MSRP $219.00/box of 20
Gordito (5 1/2" x 50) MSRP $245.00/box of 20
Siglo (6" x 52) MSRP $270.00/box of 20
Sublime (6 1/2" x 54) MSRP $299.00/box of 20