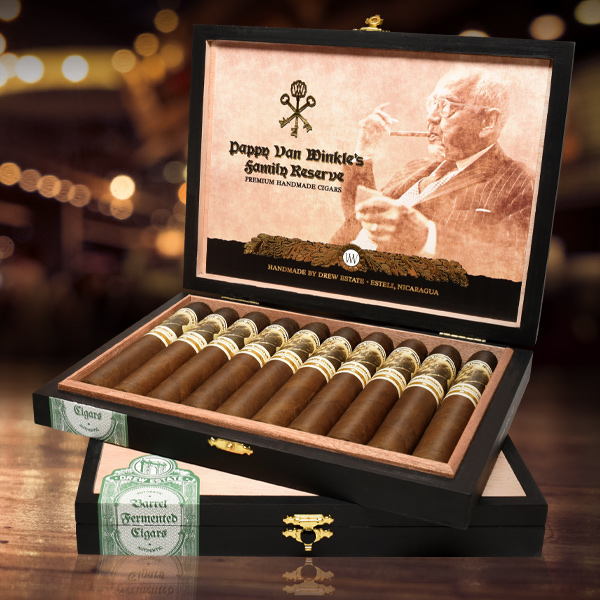 Drew Estate and Pappy Van Winkle Go Brick & Mortar with Barrel Fermented
Drew Estate unveils today the national release of Pappy Van Winkle's Family Reserve Barrel Fermented Cigars exclusively to brick and mortar Drew Diplomat Retailers. Until now, Barrel Fermented has been sold exclusively through Pappy & Company at pappyco.com, owned and operated by the Van Winkle Family.
The Pappy Van Winkle Barrel Fermented cigar is a long-filler, premium cigar rolled in limited quantities at La Gran Fabrica Drew Estate in Estelí, Nicaragua. Deep barrel fermentation is the key process that makes this expression vastly different from anything on the market. Hand selected leaves from Kentucky are packed into small torquettes (or bundles of tobacco), which are then loaded strategically into oak bourbon barrels. Water is then added, while immense pressure is applied to the torquettes via railroad jacks. The tobacco is removed 2-3 times per year, shaken out, then repacked. The total process of fermentation takes 12-18 months, leaving a truly unique flavor profile and aroma.
This historic cigar features a barrel fermented "tapa Negra" wrapper over a Mexican San Andres base wrapper, as well as aged Nicaraguan filler tobaccos, personally selected by Jonathan Drew. PVW Barrel Fermented is presented in hand-crafted boxes of 10, sold in brick and mortar stores exclusively by Drew Diplomat Retailers in the following vitolas: Robusto (5 ¼" x 52), Toro (6 x 52) and Churchill (7 x 48).
In addition, Drew Estate announces the release of the Pappy Van Winkle Barrel Fermented Flying Pig to be sold exclusively through Pappyco.com. This cigar is a 3 15/16" x 60 flying pig vitola, which remains one of the most consumer demanded sizes in the Drew Estate portfolio.
Carrie Van Winkle Greener, Co-Founder of Pappy & Company notes, "In the past five years, we have been fortunate to see this brand partnership grow as we have combined our strongest brand assets from the bourbon and cigar industries into a one of a kind product, unlike anything else sold in the market. We are excited to see how this partnership grows in the future and are grateful to have collaborated with Drew Estate, who shares our like-minded commitment to quality, craftsmanship and authenticity."
From the Wynwood Safehouse, Jonathan Drew Founder and President of Drew Estate adds, "This is a historic partnership for the worlds of premium cigars and premium spirits. After five years of friendship, teamwork, and product/brand development – we are ready to move into the second phase of our aligned vision. The ongoing consumer demand for the BARREL FERMENTED expression is incredible … and we have discovered that hundreds of our brick and mortar stores were reaching out to the Van Winkles about carrying this specific line extension in their stores, even if they had to pay full retail price. While the entire barrel fermented line will remain available for online purchase exclusively at Pappy & Company, the Van Winkle and DE families have come together with a brick and mortar only opportunity for our DDRP customers who wish to sell the product. This is a game changer in every way. The BARREL FERMENTED is highly sought after, priced right, and is now going to have carefully controlled brick & mortar distribution nationwide."
The Pappy Van Winkle Barrel Fermented is available at Drew Diplomat brick and mortar retailers (as well as online at pappyco.com) in the following vitolas:
• Pappy Van Winkle Barrel Fermented Robusto (5 ¼" x 52) MSRP $140.00/box of 10.
• Pappy Van Winkle Barrel Fermented Toro (6 x 52) MSRP $150.00/box of 10.
• Pappy Van Winkle Barrel Fermented Churchill (7 x 48) MSRP $160.00/box of 10.
The Pappy Van Winkle Barrel Fermented Flying Pig ( 3 15/16" x 60) will be available exclusively through pappyco.com in a 12 count box with an MSRP of $191.80