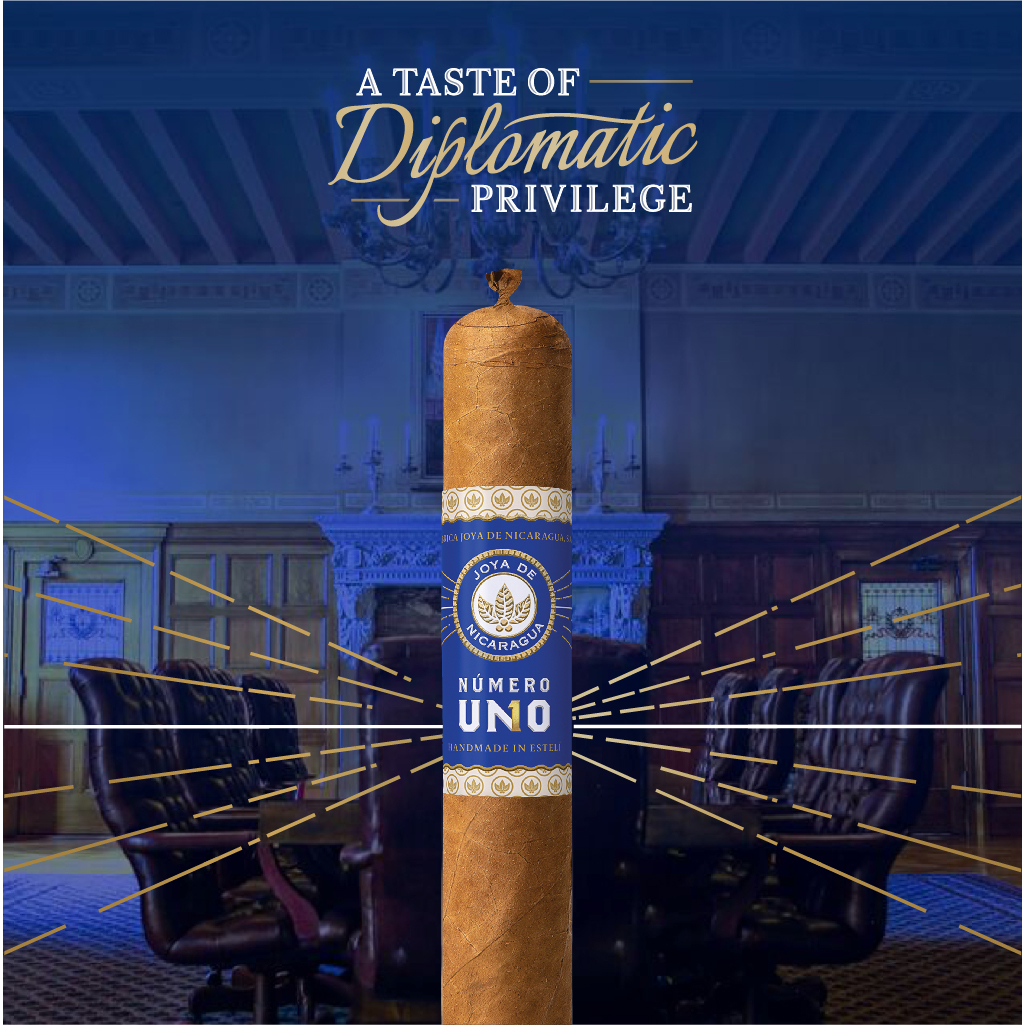 The Number One Nicaraguan Cigar to the World is Now Available. Número Uno: A Taste of Diplomatic Privilege
Número Uno was originally blended for World Leaders. Handed out by Nicaraguan ambassadors on official missions around the world. In 2018, we shared some with media and special audiences and got our highest rating in 50 years. We are now releasing it nationwide as part of Obras Maestras, the designation of our ultra-premium family of cigars.
This 'masterpiece' cigar provides medium body and strength, in a smoke that is refined, complex and elegant. Creaminess complemented with light pepper notes, making it a top-ranked, exclusive, diplomat lifestyle experience. Literally.
"Número Uno was developed as a unique gift and later an event-exclusive cigar, and although it wasn't the original intention, we decided to make Número Uno available to a bigger audience. However it will remain as something exclusive, as production will be limited to 1,500 boxes a year for the global market and will be available only in selected retailers around the globe", said Dr. Alejandro Martínez Cuenca, Chairman of Joya de Nicaragua.
This blend comes in only one vitola, L'Ambassadeur, a parejo 6 5/8 x 44 tailed lonsdale. In the United States, it will be available only at DDRP brick and mortar stores, in 25 count boxes, with an MSRP of $15.00 per stick. Número Uno uses a silky and delicate Ecuadorian Connecticut shade wrapper over a Nicaraguan binder and Nicaraguan fillers
Número Uno will be showcased at the upcoming IPCPR 87th Annual Convention and Trade Show in Las Vegas in June 2019 for US retailers, and at Intertabac in Dortmund, Germany in September 2019 for retailers in the rest of the world. "We will start shipping to stores early this fall, production is slower than in other products as only a selected group of very skilled rollers are assigned to this project", expressed Juan Ignacio Martínez, Executive President.
With Número Uno, along with Cuatro Cinco and Cinco Décadas, the Obras Maestras family now provides a wider selection of flavors, aromas and strengths that cater to ranging palates of connoisseur smokers. However, what they all offer is the unique experience of enjoying the best cigars crafted by the most seasoned torcedores from the oldest cigar factory in Nicaragua.
Númemo Uno was named the Top Cigar of 2018 by halfwheel, and its packaging has been delicately designed to address the brands essence.